Viswanathan Anand beats Boris Gelfand to win World Chess title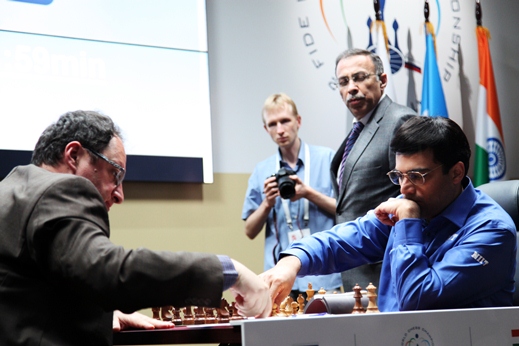 India's world chess champion Viswanathan Anand retained his title by defeating Israeli challenger Boris Gelfand in a thrilling speed chess decider at the end of their match in Moscow.
Anand won game two of their four speed chess games on Wednesday with the other three games ending in draws to win the tie-break, which was forced after their 12-game Moscow series of regular matches ended all square.

Anand has previously won the title in 2000, 2007, 2008 and 2010.

Anand beat Gelfand 2.5-1.5 in rapid chess tie-breaker at Moscow after the two Grandmasters ended the 12-game championship match with a 6-6 stalemate.
The first game of the tie-breaker ended in a draw in 33 moves before Anand beat Gelfand in the second game in 77 moves. The two of the remaining four-game rapid chess tie-breaker ended in a draw as Anand successfully defended his world championship title for the third time in a row.
Rapid chess games

Game no. 13 >>> viewtopic.php?f=20&t=3394

Game no. 14 >>> viewtopic.php?f=20&t=3395

Game no. 15 >>> viewtopic.php?f=20&t=3396

Game no. 16 >>> viewtopic.php?f=20&t=3397

If you don't like something change it; if you can't change it, change the way you think about it..Learn to smile at every situation..See it as an opportunity to prove your strength and ability...
Live Hard Live Your Dream
KnightAttack